Our Library Hosts Two Monthly Book Clubs
Copies are kept behind the front desk. Call 610-566-1918 ext. 104 to be added to member list.
The Afternoon Book Club meets in person on the library's second floor from 2:00 pm – 3:00 pm on the 3rd Thursday every month.
APRIL 20, 2023 (Will be discussed on May 18)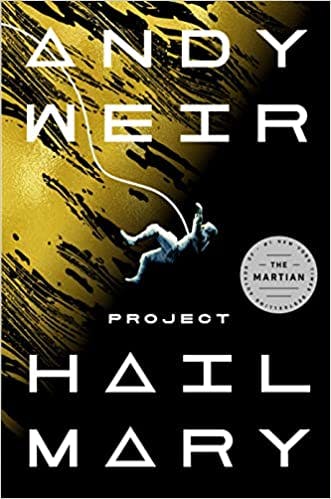 Project Hail Mary by Andy Weir
"Readers may find themselves consuming this emotionally intense and thematically profound novel in one stay-up-all-night-until-your-eyes-bleed sitting. An unforgettable story of survival and the power of friendship—nothing short of a science fiction masterwork."—Kirkus Reviews (starred review)
As Ryland Grace awakens from a coma, he doesn't know who he is or where he is, but a mix of calculations, deductions, and slowly returning memories enlightens him: He's a junior high school science teacher on a small space ship. His mission? Save Earth. As in The Martian, Weir makes science and problem solving not only cool but absolutely essential to survival, delivering an electrifying space adventure that yanks at both the gut and the heart strings. Readers will absorb facts about gravity and heavy metals even as Grace races against the clock and builds an unexpected partnership while hurtling through the cold depths of space.
And with the clock ticking down and the nearest human being light-years away, he's got to do it all alone.
Or does he?
MAY 18, 2023
Finding Me by Viola Davis
"In my book, you will meet a little girl named Viola who ran from her past until she made a life-changing decision to stop running forever.
This is my story, from a crumbling apartment in Central Falls, Rhode Island, to the stage in New York City, and beyond. This is the path I took to finding my purpose but also my voice in a world that didn't always see me.
As I wrote Finding Me, my eyes were open to the truth of how our stories are often not given close examination. We are forced to reinvent them to fit into a crazy, competitive, judgmental world. So I wrote this for anyone running through life untethered, desperate and clawing their way through murky memories, trying to get to some form of self-love. For anyone who needs reminding that a life worth living can only be born from radical honesty and the courage to shed facades and be . . . you.
Finding Me is a deep reflection, a promise, and a love letter of sorts to self. My hope is that my story will inspire you to light up your own life with creative expression and rediscover who you were before the world put a label on you."
JUNE 15, 2023
Our Missing Hearts by Celeste Ng
An instant New York Times bestseller • A New York Times Notable Book of 2022 • Named a Best Book of 2022 by People, TIME Magazine, The Washington Post, USA Today, NPR, Los Angeles Times, and Oprah Daily, and more • A Reese's Book Club Pick
Twelve-year-old Bird Gardner lives a quiet existence with his loving father, a former linguist who now shelves books in a university library. His mother Margaret, a Chinese American poet, left without a trace when he was nine years old. He doesn't know what happened to her—only that her books have been banned—and he resents that she cared more about her work than about him.

Then one day, Bird receives a mysterious letter containing only a cryptic drawing, and soon he is pulled into a quest to find her. His journey will take him back to the many folktales she poured into his head as a child, through the ranks of an underground network of heroic librarians, and finally to New York City, where he will finally learn the truth about what happened to his mother, and what the future holds for them both.

Our Missing Hearts is an old story made new, of the ways supposedly civilized communities can ignore the most searing injustice. It's about the lessons and legacies we pass on to our children, and the power of art to create change.
JULY 20, 2023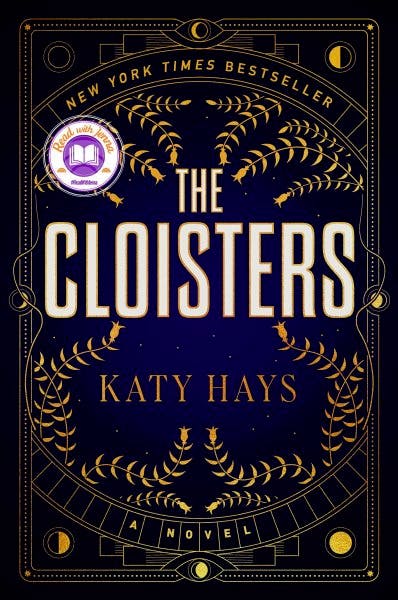 The Cloisters by Katy Hays
"For fans of The Talented Mr. Ripley and The Secret History…The perfect mystery." —Jenna Bush Hager, Today

In this "sinister, jaw-dropping" (Sarah Penner, author of The Lost Apothecary) debut novel, a circle of researchers uncover a mysterious deck of tarot cards and shocking secrets in New York's famed Met Cloisters.
When Ann Stilwell arrives in New York City, she expects to spend her summer working as a curatorial associate at the Metropolitan Museum of Art. Instead, she finds herself assigned to The Cloisters, a gothic museum and garden renowned for its medieval art collection and its group of enigmatic researchers studying the history of divination.

Desperate to escape her painful past, Ann is happy to indulge the researchers' more outlandish theories about the history of fortune telling. But what begins as academic curiosity quickly turns into obsession when Ann discovers a hidden 15th-century deck of tarot cards that might hold the key to predicting the future. When the dangerous game of power, seduction, and ambition at The Cloisters turns deadly, Ann becomes locked in a race for answers as the line between the arcane and the modern blurs.

A haunting and magical blend of genres, The Cloisters is a gripping debut that will keep you on the edge of your seat.
AUGUST 17, 2023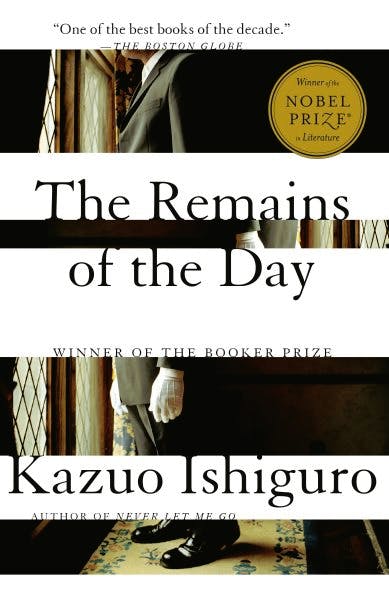 The Remains of the Day by Kazuo Ishiguro
BOOKER PRIZE WINNER • From the winner of the Nobel Prize in Literature, here is "an intricate and dazzling novel" (The New York Times) about the perfect butler and his fading, insular world in post-World War II England.

This is Kazuo Ishiguro's profoundly compelling portrait of a butler named Stevens. Stevens, at the end of three decades of service at Darlington Hall, spending a day on a country drive, embarks as well on a journey through the past in an effort to reassure himself that he has served humanity by serving the "great gentleman," Lord Darlington. But lurking in his memory are doubts about the true nature of Lord Darlington's "greatness," and much graver doubts about the nature of his own life.
PAST 2023 AFTERNOON BOOK CLUB SELECTIONS:
JANUARY 19, 2023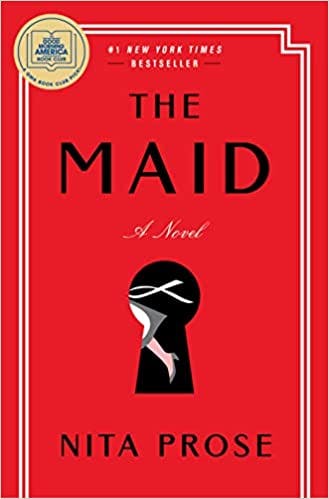 The Maid by Nita Prose
Molly Gray throws herself with gusto into her work as a hotel maid. Her unique character, along with her obsessive love of cleaning and proper etiquette, make her an ideal fit for the job.
But Molly's orderly life is upended the day she enters the suite of the infamous and wealthy Charles Black, only to find it in a state of disarray and Mr. Black himself dead in his bed. Before she knows what's happening, Molly's unusual demeanor has the police targeting her as their lead suspect. She quickly finds herself caught in a web of deception, one she has no idea how to untangle. Fortunately for Molly, friends she never knew she had unite with her in a search for clues to what really happened to Mr. Black—but will they be able to find the real killer before it's too late?
"The reader comes to understand Molly's worldview, and to sympathize with her longing to be accepted—a quest that gives The Maid real emotional heft."—The New York Times Book Review (Editors' Choice)
FEBRUARY 16, 2023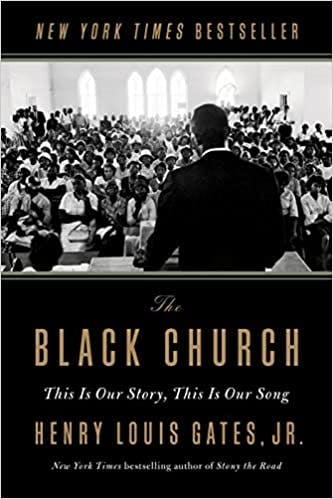 The Black Church: This Is Our Story, This Is Our Song by Henry Louis Gates Jr.
"Engaging. . . . In Gates's telling, the Black church shines bright even as the nation itself moves uncertainly through the gloaming, seeking justice on earth—as it is in heaven." —Jon Meacham, New York Times Book Review
As Gates brilliantly shows, the Black church has never been only one thing. Its story lies at the heart of the Black political struggle, and it has produced many of the Black community's most notable leaders. At the same time, some churches and denominations have eschewed political engagement and exemplified practices of exclusion and intolerance that have caused polarization and pain. Those tensions remain today, as a rising generation demands freedom and dignity for all within and beyond their communities, regardless of race, sex, or gender. Still, as a source of faith and refuge, spiritual sustenance and struggle against society's darkest forces, the Black Church has been central, as this enthralling history makes vividly clear.
MARCH 16, 2023
The School for Good Mothers by Jessamine Chan
Frida Liu is struggling. She doesn't have a career worthy of her Chinese immigrant parents' sacrifices. She can't persuade her husband, Gust, to give up his wellness-obsessed younger mistress. Only with Harriet, their cherubic daughter, does Frida finally attain the perfection expected of her. Harriet may be all she has, but she is just enough.
A "captivating" (Today) page-turner that is also a transgressive novel of ideas about the perils of "perfect" upper-middle class parenting; the violence enacted upon women by both the state and, at times, one another; the systems that separate families; and the boundlessness of love, The School for Good Mothers introduces, in Frida, an everywoman for the ages. Using dark wit to explore the pains and joys of the deepest ties that bind us, Chan has written a modern literary classic.