2023 FALL BOOK SALE: OCTOBER 21 – 23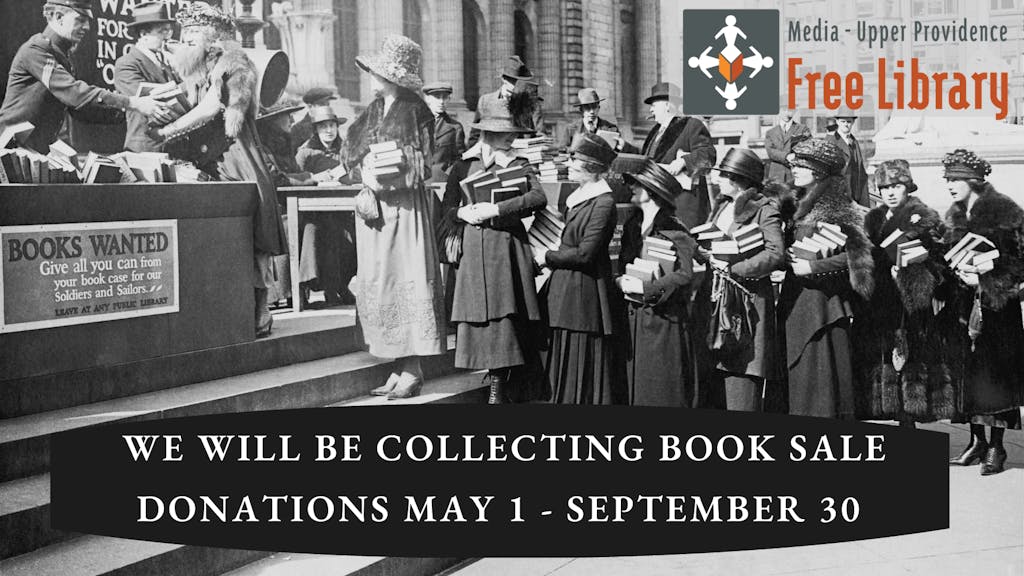 Why is this book sale so special:
Residents in and around Media donate thousands of books, records, games, and DVDs all year round, and a force of about 25 dedicated volunteers see it all. By the time these wonderful hard-working sorters are done, there will be well over 40,000 books, DVDs and collectibles spreading from the basement up to the second floor of the library.
The proceeds from the book sale go directly towards the library, so come and see what this great community event is all about – and buy some books!
This great community event comes only twice a year and we need your help in donating gently used books and even rare books.
Frequently Asked Questions?
What are the book sale dates?
The Book Sale operates bi-annually (twice yearly) on the third weekend in April and October.
When do you accept donations?
Donations accepted: May 1 – September 30 AND November 1 – March 31.
Where do you accept donations?
Please leave donations in the bins marked "BOOK DONATIONS HERE" to the left of the main door at the Media-Upper Providence Free Library outside entrance.
What types of donations are needed?
We accept items (clean and in good condition) such as:
Hardbooks
Trade soft cover
Paperbacks
DVDs
CDs
Books on CD
Records, games, and puzzles
We regret we cannot accept:
Reader's Digest books
National Geographic magazines
Encyclopedias
Textbooks older than seven years old (more than five years for business texts)
VHS tapes
Where do I obtain a receipt?
Receipts are available from the library.
Who benefits from the book sales?
All proceeds go to the Media-Upper Providence Free Library. Thank you for your support!
For more information, follow us on Facebook, Twitter, Instagram, email us at librarysalemupfl@gmail.com or call the library at 610-566-1918.
Organized by year-round volunteers to benefit: Media Upper Providence Free Library, Visit us on Facebook, Instagram, and Twitter for Book Sale updates.
If you are interested in Volunteering for the Book Sale please be aware there are new protocols and procedures in place: