If you have a garden and a library, you have everything you need. ― 
The Media-Upper Providence Free Library received a grant before COVID-19, for the Cycle of Life Project, from the Ethel Sergeant Clark Smith Memorial Fund. The Cycle of Life starts inside the library with creating our own organic soil from food scraps fed to our red wiggler worms, because Worms Grow Green, Worms Recycle!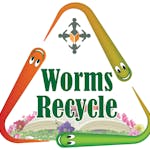 Though we are closed for now, the Cycle of Life Project is more than composting worms, organic fertilizer, soil, plants, gardening, or food to table: it can lead to a Way of Life: a way to cycle and recycle, a way for All to go Green, all ages, all together.
How does your Garden Grow?
Since we can't plant our Library Garden right now, we would love our community to share their COVID-19 Victory Gardens. Please send your garden images to: submissions.mupfl@gmail.com