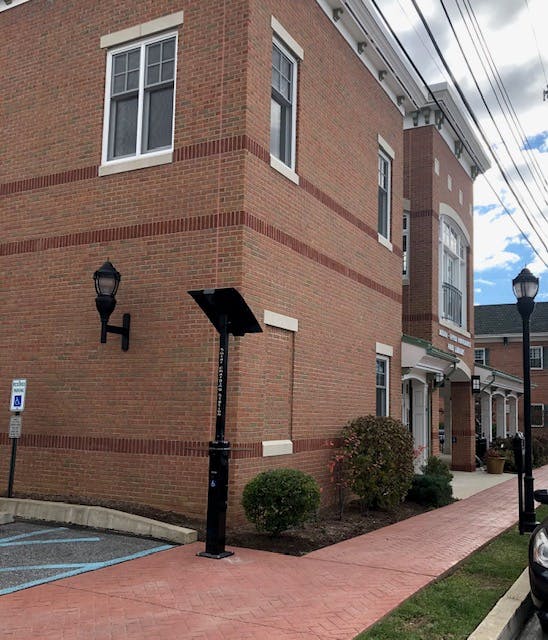 Check-out our new SOLAR CHARGING STATION!
Our Solar powered charging pole was recently installed next to our accessible parking and sidewalk, located near the library front entrance on the corner of N Jackson St and E Emerald St. This solar equipment allows our residents to charge mobile devices 24/7 while outside the library, even when we are closed, and pairs perfectly with outdoor Wi-Fi access.
The solar project was financed by a grant from the Commonwealth of Pennsylvania, Department of Community and Economic Development, Keystone Communities Program which was awarded through a collaborative effort by the Swarthmore Public Library, Delaware County Libraries, and Senator Tim Kearney. "I'm excited that my office was able to help secure funding for solar equipment for several libraries in the 26th District," said Senator Kearney. "There are so many positive benefits to using solar energy, and it's more environmentally friendly. Now library patrons can take advantage of this technology, which includes free Wi-Fi, all while enjoying the beauty of the outdoors and our local libraries."
The solar equipment was installed at eleven public libraries within the Senator's 26th Senatorial District, which includes Delaware and Chester Counties.
We are grateful to be one of the libraries benefitting our patrons, and future generations, by safeguarding our environment with alternative energy solutions.