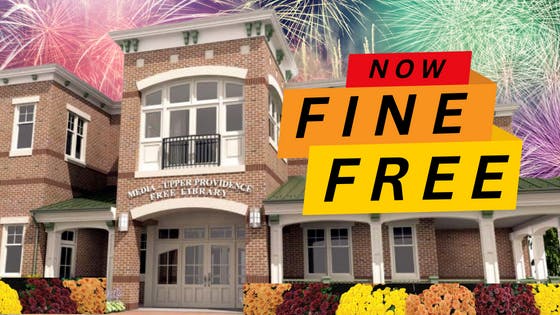 Fine Free resolution:
Our Media-Upper Providence Free Library Board of Trustees, in order to encourage the unbridled joy of reading, the exploration of ideas, and the pursuit of lifelong learning has voted unanimously to stop charging Media Borough and Upper Providence residents overdue fines.
ALL Media-Upper Providence Free Library materials are now fine-free.
What does this Mean?
Overdue fines to cease on materials owned by the Media-UP Library – no matter where the material is checked out or returned.
Collecting overdue fines to cease on all library materials returned to Media-UP Library – no matter which library they are from.
All current fines waived for patrons residing in Media Borough or Upper Providence Township.
We will continue to send out overdue notices for overdue materials, and bills for replacement of materials that are long overdue, lost or damaged.
Studies have shown that whatever revenue has been lost, has been more than gained back by usage, good will, donations, and the same amount of materials were returned with or without fines.