MAC at the Library Opening Reception
May 4, 2019 @ 4:30 pm

-

6:30 pm
Event Navigation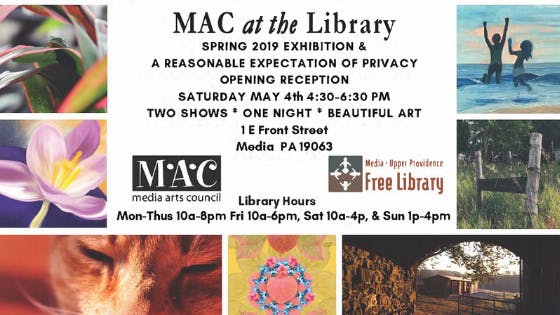 The next MAC at the Library Opening Reception is May 4 @ 4:30 PM and includes the multi-media show:
A Reasonable Expectation of Privacy.

In 1967 the Supreme Court ruled that conversations inside a public phone booth constitute "a reasonable expectation of privacy." Step inside our phone booth on the 2nd floor to see our evolution of surveillance.
Artist Lisa Marie Patzer will be displaying more features to her sight & sound show, and be on hand to guide you through her interactive and engaging presentation.
We will have Wine, Wit & Wisdom with a little Night Music.
MAC Artists will be on main level with gallery works and A Reasonable Expectation of Privacy Show, with welcome cake, upstairs after-hours starting at 4:30 pm.
The library Gallery webpage will be updated regularly.