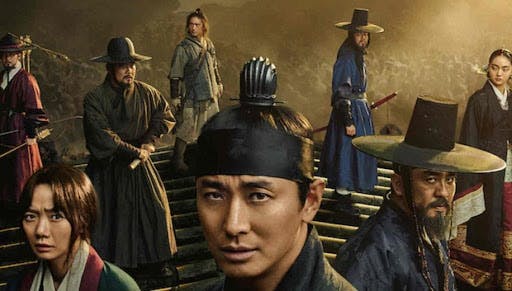 We are going to offer a monthly online Film Program where we watch movies together, however, while we get that all set up, tell me what you've been watching while staying at home this past month!
After watching the South Korean film that won the Oscar for best picture, Parasite, I was curious about a series named Kingdom set during Korea's Joseon period, a few years after the Japanese invasions of Korea (1592-1598).  The first season depicts the story of Crown Prince Lee Chang (Ju Ji-hoon), who stumbles across a life-threatening political conspiracy while investigating the spread of a mysterious plague. No spoiler alert here, it is a Zombie type affliction, however it has a decidedly more scientific medical cause that I found refreshing in the genre. The costumes for this period piece are exquisite and completely unknown to most western cultures. An added benefit, since I binge watched it on Netflix, I could fast forward through all the scary zombie gore-fest scenes.
I'm saving many good movies for the online film program, and I'm excited to share more information with you once we iron out a few more logistics.
So what have you been watching?